Download Adobe Acrobat Reader
Go to the Adobe site. Choose your version (Win 95, Mac, etc, your language, they ask for an E-mail address, but be sure to uncheck the boxes for permission to send you information and give your name to others (unless you want to receive their mail). Then click the

button.
Next wait awhile, as their Thank You page loads (it is large) and finally you should see something similar to this: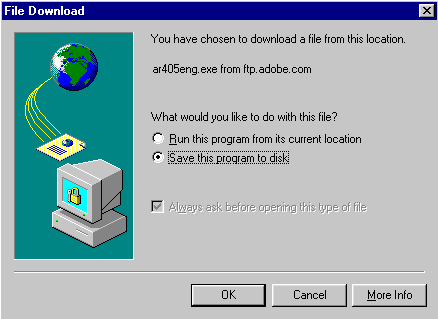 Click the OK button and next you'll see the Save As dialog box. Now choose where you want the file on your hard drive. Use the little yellow folder with the up arrow to navigate up, or the down arrow to navigate down your file structure. If you are unsure what this means, keep hitting the UP arrow until it says Desktop in the Save in box and click Save.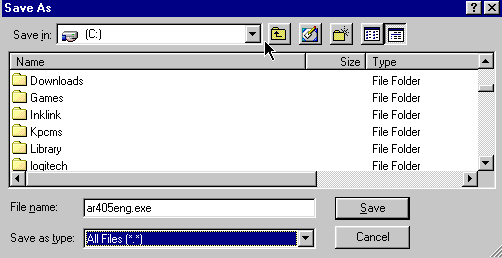 Install Adobe Acrobat Reader
To install the Adobe Acrobat Reader follow these steps:
1. Close all open programs, and go to Start > Run > Browse > then navigate to your download location and find the file you just downloaded (called ar405eng.exe or something similar). Click on this file. This will launch the installation program.

2. Follow the prompts and choose Next to continue through the installation.

3. Choose the "Yes" button on the Software License Agreement screen. If you do not agree, you cannot install the software.

4. The installer will select a location on your hard drive automatically and display its choice (usually C:\Adobe) in the Destination Directory window, or choose Browse to install in a different directory. When you have chosen the directory, choose Next.
As the installation progresses, a completion bar will show the installation progress. You may choose to abort the installation at any time during this process.
5. After installation is complete, choose the Finish button. This will cleanup any temporary files used for the installation. Choose OK in the dialogue box that follows. The installer will then quit.
Thatís it. You have successfully installed the Adobe Reader, and from now on whenever you want to view a PDF file, double-click the file and the Reader will launch automatically. The reader will also launch when you open a PDF file on-line, but will then most likely open inside your browser window.