When you open a PDF file from a browser, usually the file will open within the browser as shown above. You now have two menus, the browser, and the Acrobat Reader. We have dimmed everything but the Acrobat Reader toolbar which are the buttons we will be describing next.

Use the Save icon to save a copy of the file you are viewing to your hard drive

The printer icon is used to print the document. Duplex printing is built in, so if you'd like to print both front and back, follow the instructions on our Acrobat Reader Hints page.

Show/Hide Navigation Pane. Use this button if you would prefer not to see the Index along the left-hand side. Click it once to remove the Navigation (index), click it again to bring it back.

Zoom In Tool - Click this tool and you'll have a magnifying glass which when clicked on the document will cause it to magnify. If the document text becomes too large you can hold down Ctrl > Shift and click the document again (now the tool will show a - minus sign rather than a plus), or use the toolbar at the bottom of the screen

The small arrow beside the 125% in the example above will display a dropdown menu of many sizes. Click the one you prefer (usually 100%).

Jump back to First Page of the document.

Jump to Last Page of the document

Back one page

Forward one page (Also you can use your Page Up and Page Down buttons on your keyboard).

Go to previous view (use this when you have a magnification setting, but want to switch back and forth

Go to Next view.
Actual Size, Fit in Window and Fit in Width. Play with these to see how they appear on your screen.

Rotate View. Handy if you want to view a chart and its orientation is not correct. Play with this one too.

Find and Find Again buttons. The Find button can help you go directly to specific text. Find again is not available until you have used Find at least once, then it will be set with whatever text you last searched.
If you open a document from your hard drive by double-clicking the file, rather than from your browser, you will now see the entire Menu for Adobe Acrobat Reader.


Here you'll find a few more goodies under the File, Edit, Document, and View Menus. Help contains a Reader Guide which was installed at the same time you installed the Reader itself. In depth information about this program.
Once you open the Reader Guide, it can be confusing how to get back to the document you were previously viewing. At this point you would have two open documents, but only one will be seen in your screen. Use the Window Menu as show below.
You can see that there are two documents listed, 1 Tips_New.pdf and 2 Reader.pdf Since Reader.pdf has a check mark, that means it is the document that is presently being displayed. To switch to a different document, just check a different number, or choose the number itself on your keyboard.
In other words, if you open this dialog box by clicking on Window > then hit the number 1 on your keyboard, the document listed under #1 will then be open as the predominant document. There can be up to seven documents available at one time. To view more than one at a time, choose Cascade or Tile from the Menu.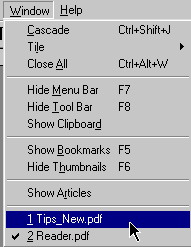 The last handy trick we'll point out is the Retain View on Close feature, a bookmark of sorts.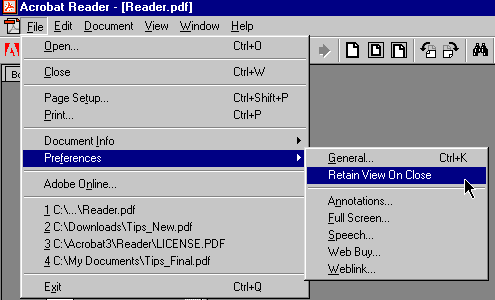 Found by clicking on File > Preferences > Retain View on Close. This will cause the document you are viewing to open at the same place you left off the last time. Neat Trick.