January 8th, 1998 was a cycling day that ended with a deep selloff that set up the 3000+ point drop the next day.
9:40 This doji, associated with substantially increased
volume over multiple time bars, resulted in this intermediate bottom.

12:45 A three tick new low 45 minutes after the previous 12:00 low indicated another excellent reversal candidate.

1:20 Twin Bollinger Band penetrations gave plenty of
warning to those willing to objectively observe price action.

2:15 This two tick new high showed us the beginning of a substantial (800+ point) selloff

Example 3: 1-min bar chart of S&P 500 (SPH8) on January 9th, 1998.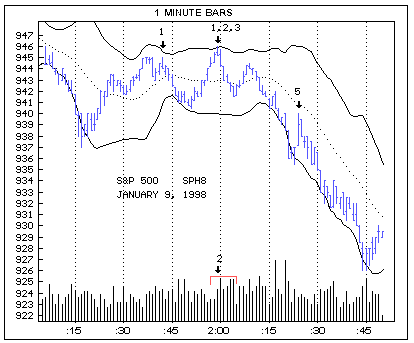 January 9th, 1998 was the fourth largest selloff in history. The Dow closed down 222 points and the S&P closed down 3,200 points.
On very volatile days, I pay more attention to shorter time frames - the price patterns and volume characteristics are, to me, much more apparent. It is critical though, to resist over-trading when tracking price on very short-term price bars. I find it advantageous to occasionally look at the longer term bars for the larger perspective.
1:43 This one minute doji at what is essentially a double-top, showed us the end of this retracement.

2:00 Triple hit! A doji on increased volume, the penetration of a Bollinger Band, and the additional rise in volume was the beginning of this 2000+ point selloff

2:25 This fast one minute up bar immediately runs out of volume with no follow through and just as quickly reverses for a 1300 point selloff